---
The 83rd edition of Pitti Filati was a powerhouse of change and a place for serious research by designers and buyers. The offer for 2019/20 was bold and colourful and the ethical dimension of current concerns up-front.
Top-class mills are making certain that the sustainability and responsibility issues currently topping the bill will be addressed, as fibre and yarn is where it starts. In this, wool plays an important role with inbuilt advantages.
Winter 2019/20 looks good for Merino wool, particularly in superfine and extra-fine qualities, but also more bulky yarns. "We're now moving to thicker qualities for more exaggerated proportions to favour sculpted and rounded finishing," said Silvio Botto, Managing Director of the green-focused wool specialists Botto Giuseppe.
Natural colours of various animal wool caught designers' attention; the subtle changes in colour fitting with high-quality, individualised fashion. In complete contrast, there is renewed demand for shine, achieved with beads, sequins or precious stones incorporated in the yarn, or by twisting wool with lustrous yarns such as silk, metallic yarns or Lurex. Wool is twisted with alpaca or other fancy fibres and the aesthetics of brushed effects result in beautiful fluffy yarns.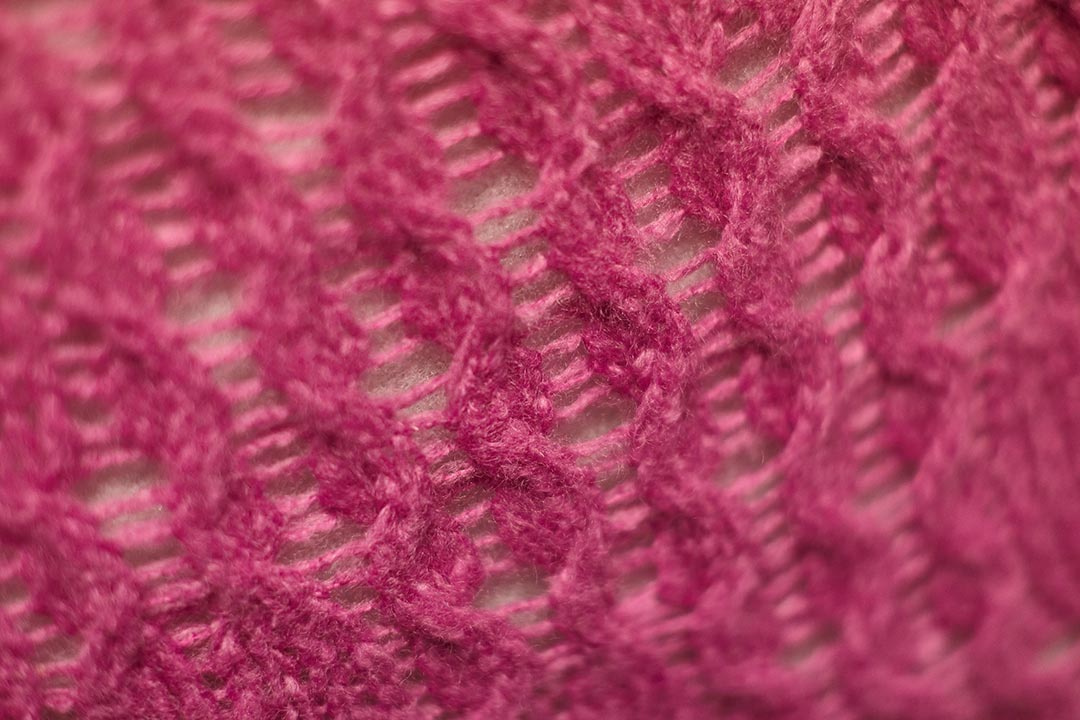 Colour, softness and slightly thicker yarns. PHOTOS: AKAstudio - collective.
Special features have been developed at the spinning stage, incorporating techno elements, finishes such as Teflon, stretch fibre, or yarns with shine. The advent of Merino techno fashion reported recently at Pitti Uomo - with wash and go suits, demanding active sports, seamless garments - has the potential of greatly increasing the scope of wool use. Südwolle Group Italia CEO Davide Marcante told us: "Wool is the past and the future of yarns for knitting and weaving. Wool, in blend with performance fibres, is the core of our research. With wool you can do anything: fashion and outdoor garments."
Colours were bright and mixes sometimes startling - pink, green, red, yellow, blue, in psychedelic collections not seen for many seasons and the optical power of broken lines and unexpected perspective strongly recalls the Op Art movement. Südwolle's take on bright neons and rainbow colours in superfine Merino wool and extra-fine Merino wool also introduced faded pinks and lilacs. Zegna Baruffa showed a stupendous array of colour in Cashwool, the most famous of their soft Merino wool yarns.
"The range and number of colours held in stock at the yarn stage is still growing as the market continues to react to changes," said Giampaolo Bruni the CEO of Ilaria - the company renowned for fancy yarns. He is optimistic about current uncertainties and predicts an eventual resurgence in many different fibre blends, both natural and synthetics, as some fibres become more expensive and rare.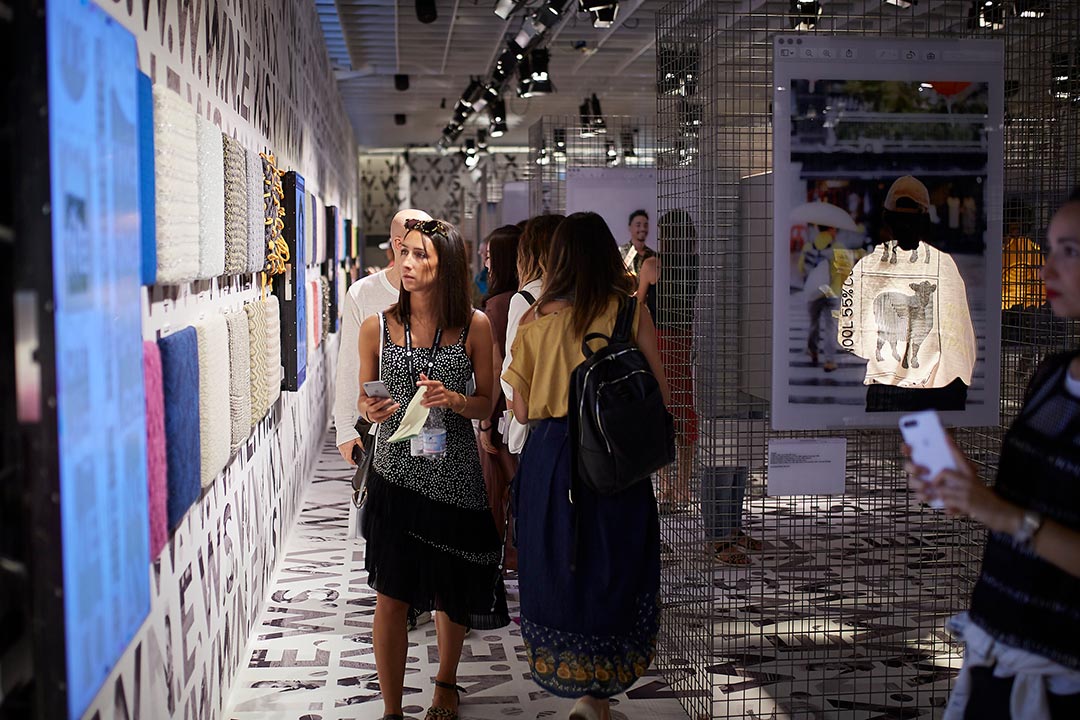 Spazio Ricerca continues to attract buyers and designers.
The Research Area, Spazio Ricerca, imagined and designed by Angelo Figus and Nicola Miller, is of great importance to both designers and buyers. It explores modern trends, with unfettered imagination as clothing, this time targeting the i-generation. Figus did not shy away from including videos of sexual images among an array of fancy stitches and colours. In a clever take for the iPhone age, rectangles containing real fabrics as if on a screen took some time for some to realise they could reach in and touch the knitted and woven fabrics displayed on the 'screen'.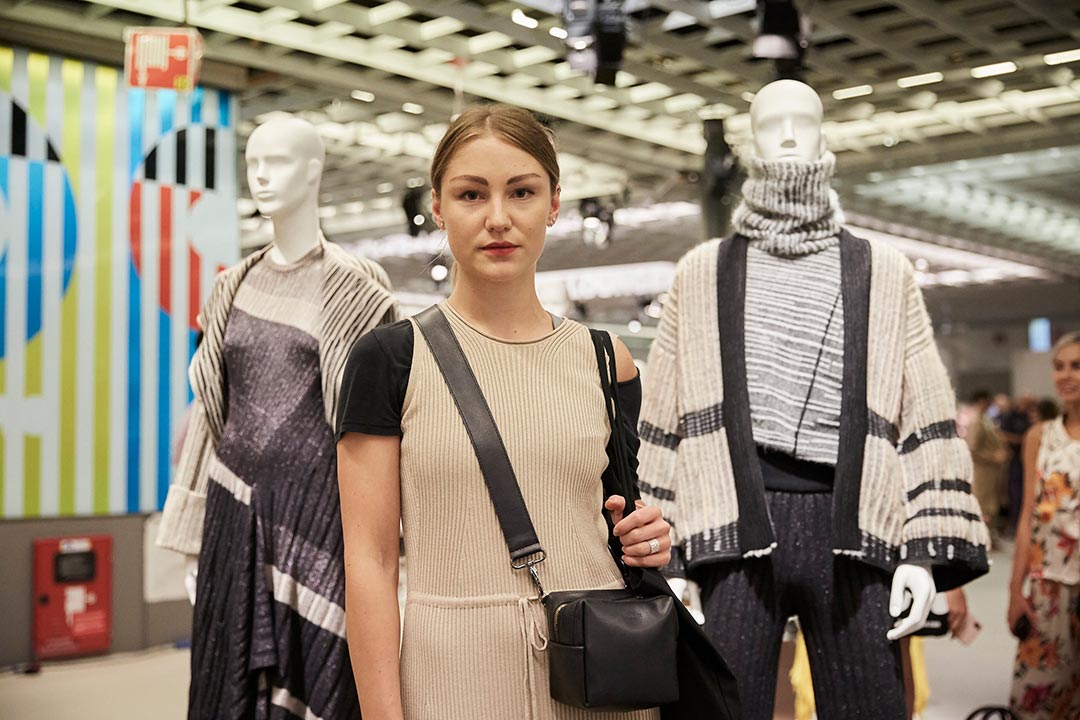 Feel the Yarn winner Margot Vaaderpass.
Feel the Yarn, Pitti Immagine's knitwear competition to challenge the elite talents of selected international students of prestigious universities, continues to grow. Student competitors are provided with luxury top of the range yarns of top mill exhibitors. The chosen final outfits provide interesting and often inspiring looks at what can be done with the newest yarns predominantly wool, this time interpreted in the theme of Hybridism. The theme could easily sum up the hybrid issues of art, science and responsibility facing the mills and the rest of the textile trade at the moment.