Intertextile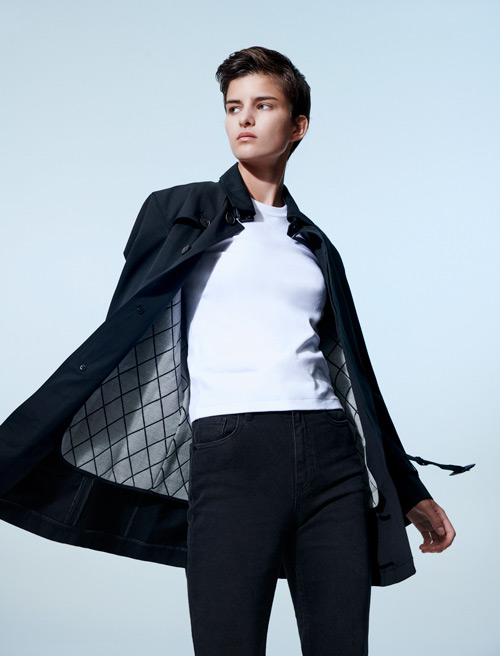 The Woolmark Company presents Wool. Every day at Intertextile, Shanghai.
The Woolmark Company returns to Intertextile, Shanghai, September 25-27, highlighting Australian Merino wool as the conscious fibre choice in textiles and apparel, as well as the latest innovative wool yarns and products. Visit us at Hall 5.1, Booth 5.1-E22 and arrange a one-on-one viewing of The Wool Lab Autumn/Winter 20/21 and The Wool Lab Sport.
Against the backdrop Wool. Every day, The Woolmark Company will highlight the infinite potential and versatility of Merino wool, whilst also highlighting the eco-credentials of the 100% natural, renewable and biodegradable fibre. An innovative fibre, the applications of Merino wool can be used in new and exciting ways, with a number of these developments on display at Intertextile Shanghai.
Wool denim
International Woolmark Prize winner Colovos and 3.1 Phillip Lim both present modern takes on denim apparel. Colovos has created a broken twill weave in a blend of Merino wool, silk and linen resulting in a series of garments that may not feel like denim but can be worn the same way. Phillip Lim on the other hand has produced a wool-cotton denim blend which uses exactly the same warp yarn as traditional denim but replaces the weft yarns with machine-washable wool.
Digital printing
Digital printing offers alternatives to both screen-printing methods and construction techniques. The environmental benefits of digital printing include reduction in chemical and water usage, the opportunity to use natural inks/dyes and minimising the amount of fabric waste. Collaborating with Come For Breakfast, The Woolmark Company will show pieces which use the latest digital printing technology. Alumnus of the International Woolmark Prize, Come For Breakfast has created a Merino wool capsule collection centred around the beauty of digital prints coupled with soft tailoring. The resulting garments offer a modern take on traditional weaves, all with the added benefit of digital printing.
Wool wadding
Wool wadding is a natural alternative to traditional synthetic or down filling normally used inside quilted garments. Wool's natural inherent properties make it the ideal filling material, providing superior warmth without the weight. A 100% wool puffer jacket will be on display, innovatively created by 2019 International Woolmark Prize finalist i-am-chen. Knitted as one single piece, the flat-knitted puffer used 100% extrafine Merino wool for the insulation inside the jacket and 100% superfine Merino wool for the outer.
Traceable wool
With consumers becoming increasingly aware of how and where their clothes are made, supply chain integrity is more important today than ever before. Chinese designer and International Woolmark Prize alumnus Ban Xiaoxue has released a traceable knitwear collection in partnership with The Woolmark Company. The collection uses yarns from leading spinner XINAO and features 30 creative and innovative knits, in a mixture of 100% Merino wool and wool blends and employs interesting knitting techniques and traditional hand embroidery.
The original performance fibre
Increased competition in the activewear market means a growing number of brands are looking to innovate with natural performance fibres, such as Australian Merino wool. This move not only allows for a point of difference, but also fulfils the demand for an environmentally-aware consumer seeking a healthier lifestyle. Recently becoming the official technical partner of the America's Cup team Luna Rossa Prada Pirelli, The Woolmark Company has been developing and supporting the Luna Rossa Prada Pirelli team to create wool-rich technical garments to be worn by the entire Luna Rossa sailing team during training, sailing and offshore activities. Selected items from the crew and team uniform will be on display, allowing visitors to experience why wool is the original performance fibre and its technical benefits.
Wool Velvet
Continuing to find new opportunities for Merino wool, The Woolmark Company's technical team has co-developed Wool Velvet alongside several manufacturers, reducing the amount of synthetic fibres typically used to create this fabric. The addition of wool elevates the already premium velvet fabric features whilst also adding an elegant drape, improved stain resistance and most importantly warmth and insulation to the end use product. A Wool Velvet suit will be on display, showcasing classic luxury with a contemporary twist.
Wool footwear
Visitors to the stand will also have the opportunity to view the latest developments in wool footwear. Developments in wool footwear - for both performance and casual shoes - include seamless circular knitted uppers, circular knitted cut-and-sew and various constructions using the latest Stoll ADF knitting machine. Combining different advanced knitting technologies with quality wool yarns allow for a very technically advanced product, proven to be ideal for shoe uppers because of its inherent elasticity and enhancing comfort during wear.