---
Natural fibres are at the heart of the many stories at Pitti Filati, presenting the fibres and yarn collections which begin to shape the new season for 2020/21. This season, natural yarns look natural, exploiting their colours and textures to chime with the green agenda, using undyed yarns or soft eco colours and giving a large place to Merino and wool yarns in general.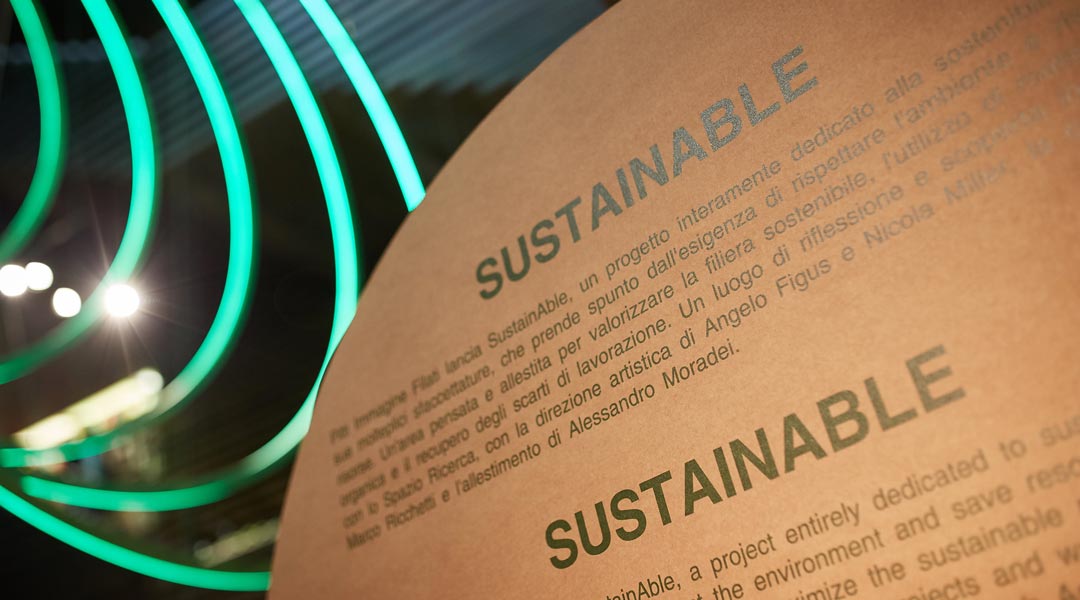 Sustainability continues to gain ground.
Sustainability: making the concept make sense
The meaning of sustainability is being redefined to make it useful for companies and customer. Retail companies are adamant that their customers are mainly interested in knowing where a product comes from, that it is pure, reliable and does no harm. Simpler definitions are being adopted, but with plenty of back-up evidence from fibre to finished garments, real assets on this have been developed. The aim is to make the first stage of a fully sustainable end product as tight and reliable as possible, without affecting creativity and imagination.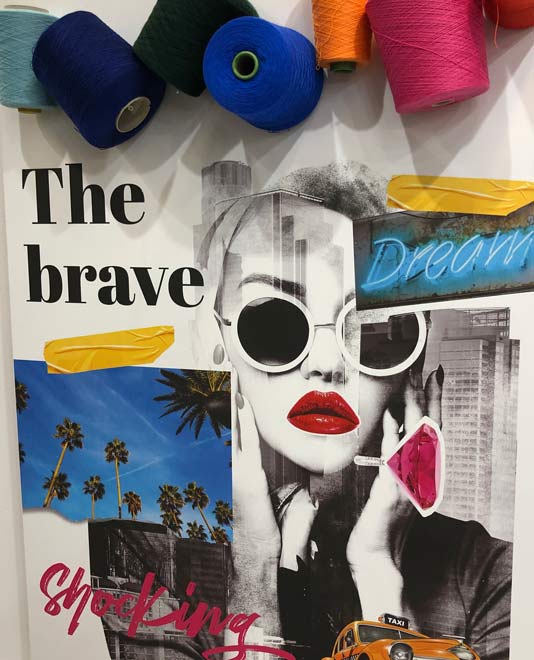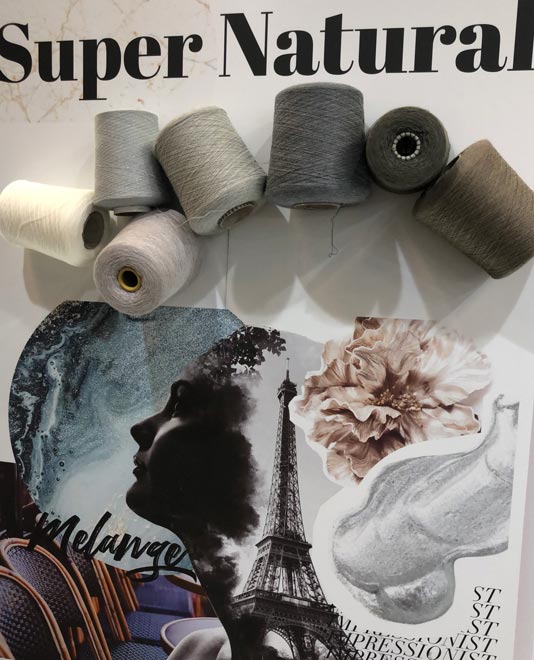 Super natural at Zegna Baruffa.
Fashion trends - soft and light, clean and bright
Clouds of soft wool characterised many of the yarns on show; it was the principal fibre chosen, used in various qualities and thickness, often combined with silk and other precious fibres. Tollegno 1900 developed silk and cashmere with ultrafine Merino wool, and a silk and extrafine Merino ringed in a loose soft bouclé, typifying the cloud effect.
Soft Merino wool yarn makes for light, puffy knits, thick and thin, as designers explore the themes of heritage and future, using new techniques of spinning and printing yarns and fabrics.
Particularly notable were Zegna Baruffa, Botto Giuseppe, Biella Yarns, Filpucci and Tollegno 1900, exploring natural tones, pure wool or blends, emphasising artisan craftsmanship; while Michell of Peru combined Merino wool with 40% alpaca.
Natural environmental tones of beach, rock and sky - brown, red, orange, blue, pink - gave a synthesis in melanges, while urban looks were interpreted in grey, gold and silver.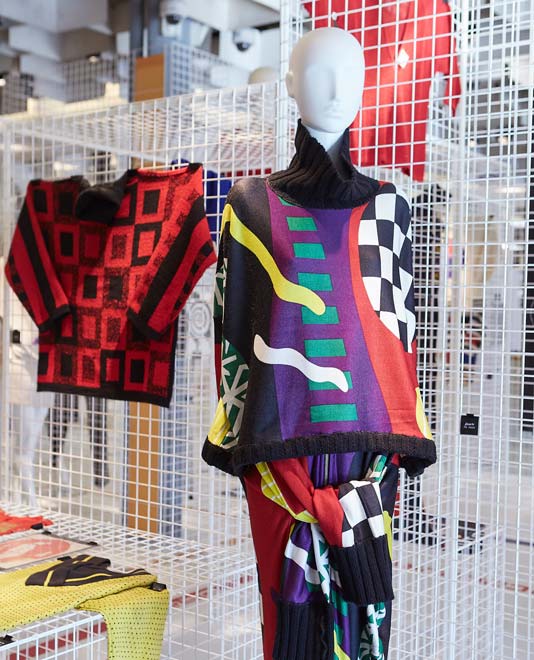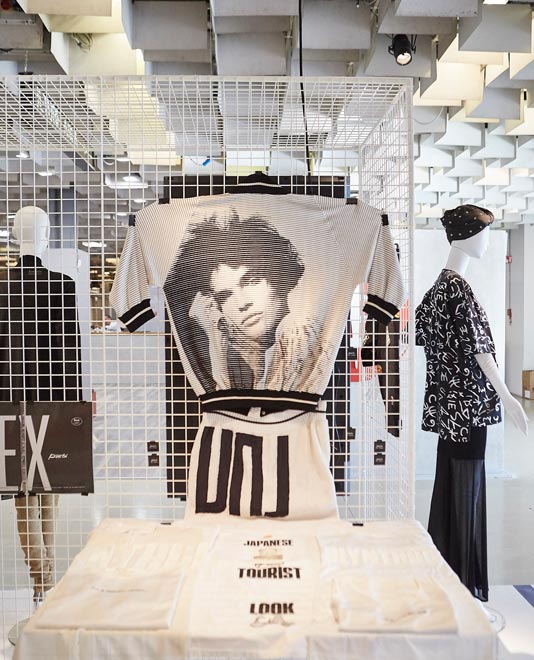 80s revival in the Pour Toi knitwear range. PHOTOS: AKAstudio - collective
Tech Glamour bursts back on the scene
In contrast with the natural look Pitti Filati revisited the bling years of the 1980s described as luxurious fantasy. Lineapiu yarns recreated computerised effects in fluorescent and dayglo colour with ultra-glitter metallic finishes. Cariaggi cleverly used yarn-dyed knit to look like printing. Lanificio dell' Olivo selecting noble and natural fibres, put into the fancy mix various man-made yarns for an imaginative glamorous look including metallics.
Sparkle and shine are an integral part of the offer reported for fashion and luxury brands, choosing paillettes and Lurex for effects from ultra-subtle flashes when moving, to full-on glitter.
Gold and silver gave a nod to the 1980s, with a glam-rock look, seen dramatically in original knit designs on show at Pitti Filati in the legendary Pour Toi knitwear range, with a direct line to punk and quoting the slogan 'I am a fashion victim', lent from the archives of Modateca Deanna, itself a show-stopper for the visitors. Deanna herself saying "yarn has to be creative".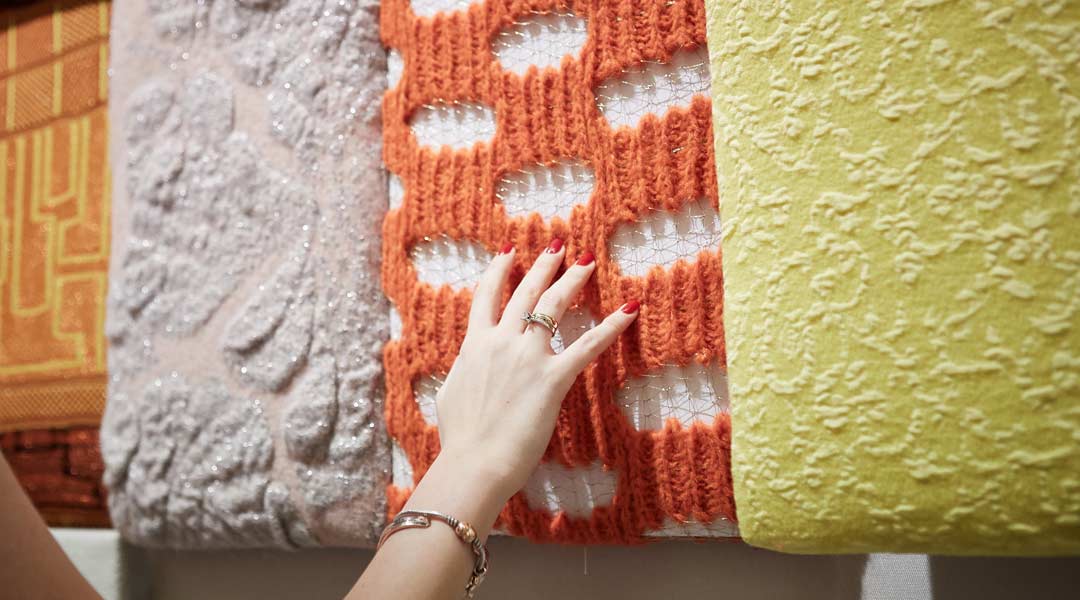 The Heritage section in the Spazio Ricerca. PHOTO: AKAstudio - collective
Research and innovate is the Pitti Filati message
Vintage Collection is a research must for designers and buyers, featuring design excellence, now joined by Heritage in the Spazio Ricerca where colours and techniques are revealed in colour and intricate stitching and texture, and also CustomEASY, an increasingly important area where luxury garments in the exhibitors' yarns are customised in the manner of the jeans area, by dyeing and treating to achieve a unique product by Angelo Figus and Nicola Miller with layout by Alessandro Moradei.
Reflected in the collections, the concept plays to wool's strengths. Many of the big spinning mills represented at Pitti Filati spoke of the fact they are working with individual farms and estates in Australia to develop new methods of conservative techniques and that their production includes joining the circular economy. Today's machinery is enabling new techniques and approaches to blends, twisting, dyeing and treating yarn.
"A blend of differences is the thread running through, a response to today's principle of inclusivity," says Filpucci's Federico Gaultieri. "Extrafine wools are the precious travel companions of many supple blends."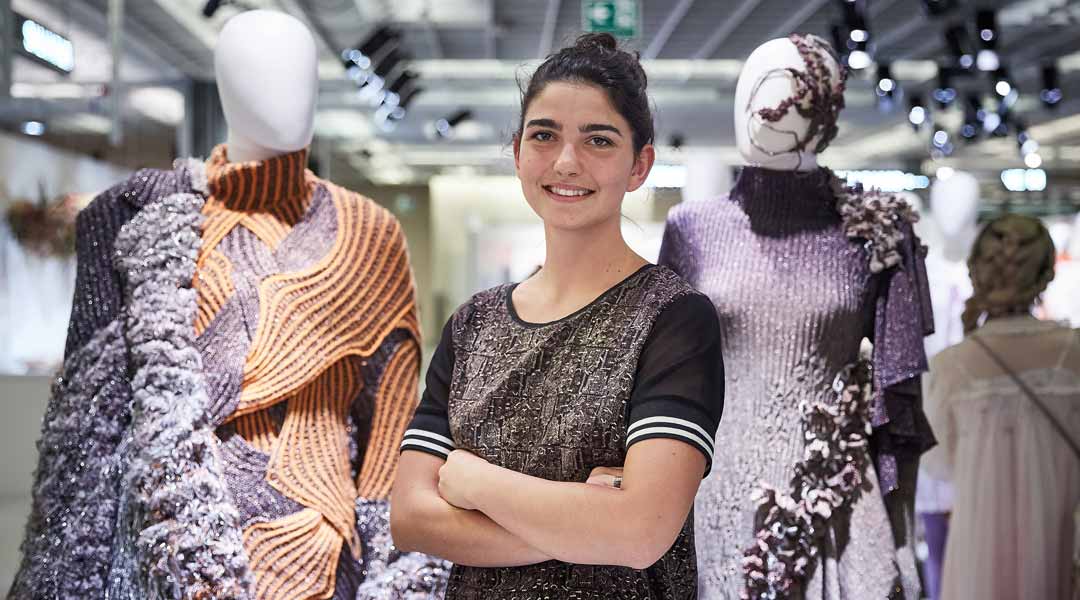 Polimoda's Camilla Conti is this year's Feel the Yarn winner. PHOTO: AKAstudio - collective
Feel the Yarn: the yarn industry gets behind new talent
Feel the Yarn at Pitti Filati in its 10th year, initiated and developed by Ornella Bignami, has been a major driver of support for new designers of knitwear studying across the world. The competition is supported by The Pitti Immagine Foundation and is subject to immense interest from professionals at Pitti Filati.
Feel the Yarn X this year involved a selection of 26 international, young creatives from 15 fashion institutions from 11 countries, who interpreted set themes in the luxury yarns of exhibiting mills with whom they were partnered randomly.
The standard of creative work improves year on year and connections made are increasingly important. This year the overall prize was won by Camilla Conti of Polimoda, Florence, with placements won by another six designers.