---
In helping to reduce the apparel industry's environmental footprint, Dr Leonardo Bonanni has developed an invaluable technological tool.
If there is one takeaway lesson from the successive moments of crisis into which the fashion industry has plunged in recent years, it is that participants in the apparel sector can no longer, in good conscience, increase their frequency of production and output without ensuring that they are doing so responsibly. Dr Leonardo Bonanni set out to bring clarity to supply chains, and the unique inventions that resulted have proved that transparency, sustainability and traceability can be fashionable. And his clients, who include Eileen Fischer and Vivienne Westwood, couldn't agree more.
Originally from Florence, Italy – one of the most significant manufacturing hubs for the luxury fashion industry – Dr Bonanni gained a PhD in 2009 from Massachusetts Institute of Technology (MIT), where he developed the foundations of his company, Sourcemap. Initially, Dr Bonanni and his team set out to create a platform that would provide information to consumers about the origins of the products they purchased; Sourcemap was going to pool information that he assumed brands already had. Though this wasn't quite right. "What we discovered really quickly after launching the first platform was that in fact it wasn't just the consumers who didn't know, it was brands themselves who didn't know where their own product came from," said Dr Bonanni from Sourcemap's headquarters in New York City.
For a long time, and for most people outside the world of supply chains, the commonly held belief was that a company who sold a t-shirt, for example, actually made it. However, this is often not the case. Very few apparel companies in the world own and run every step of the production process of the garments they sell, from the farming of the raw materials all the way to the retail floor. This is because doing so would expose them to too much risk. If one step of the linear supply chain were compromised, there would be few options to make a swift correction. A system where that risk was accepted is incredibly vulnerable and costly and would undoubtedly lead to high prices for the end products. Loro Piana is a welcome exception to that rule, Ermenegildo Zegna another. Most other apparel companies have suppliers – larger retailers can have tens of thousands – to cover certain steps in the manufacturing process. These suppliers will have suppliers, too.
"Globalisation came about long before the internet, and so people have been doing business with global supply chains before there was any way to actually communicate with that many people. And so, everybody could only see as far as the next tier; companies only knew their direct suppliers." Dr Bonanni decided to take a few steps back, and set out to create a system that enabled companies to communicate with all of its suppliers, even those two, three or four steps in the process away, and thereby understand their true global supply chain.
Sourcemap uses data gathered from a system that Dr Bonanni likens to LinkedIn to create maps of supply chains. A company will register and upload information about their direct suppliers, who will then be invited to upload information about their first-tier suppliers, and so on. Through this unique kind of social network, "we'll often see companies all of a sudden having operations that they thought were limited to one country or one region of the world, mushroom, and reveal that they have raw materials coming from all over the world."
These maps are extremely sophisticated, are constantly updated and allow companies to understand if real-time events, including environmental and political incidents, might affect their operations, as well as the best way to minimise any disturbance these incidents might have. A brand can simply look on the map for an alternative supplier, if needed. But why go to the trouble of gathering the thousands of addresses and other data needed to make these rich visual maps? "I started using maps for supply chain because I felt that if you couldn't locate it on a map then you really had no way to verify the authenticity of the claim. We're able to standardise the way suppliers are being identified and also make sure that audits are being conducted in the actual location that they're supposed to be."
With Sourcemap's tool, companies can find new or alternative suppliers, proximate to their existing suppliers, that are working to higher environmental standards or delivering better working conditions. In other words, the companies can choose to use responsible suppliers without disrupting their existing infrastructure. "A spreadsheet can only go so far in showing you your supply chain," he says. "An apparel company's supply chain is even more complex because there are tens of thousands of suppliers and they change every quarter or every season, and that turnover makes apparel supply chains one of the hardest things to map and to account for."
The benefit of using a social media-like system that pools data in real-time from all over the world is that it can respond to this constant change. It also creates a database that allows designers to look at where specific fabrics or components came from, perhaps two years ago, and resource them if needed.
When Sourcemap began nine years ago, there was little interest in supply chain transparency. "Frankly nobody wanted it. It took a while to get companies confident that they could even use the internet as a way to manage their supply chain." Events including the infamous collapse of the Rana Plaza in Bangladesh in 2013 were a huge reality check for the industry, and consumers alike, and encouraged participants in the industry to approach their supply chains in a different way. The tsunami that hit Japan in 2011 was another key event that shifted attitudes, says Bonanni. "Companies are really starting to wake up to the fact that they need to map their supply chain just to run their business." Apparel consumers have also become discerning; the environmental and social consequences of their purchases have become an important consideration in their decision-making processes. "There's been an enormous shift.
"The new generation of consumers certainly identify with a brand's social mission, and there's more information about brands' social missions to identify with, so there's a combination of demand and supply. You see start-ups like Everlane identifying themselves as being transparent and that really sparks a lot of interest for millennials. I think apparel customers are very conscious of the social and environmental conditions – I'd say mainly social conditions – in which the clothing they buy are made. It's probably for the same reason: it's something you wear, it's something close to your skin."
However, Dr Bonnani argues that the largest driver for "the entire industry adopting better standards" has actually been company-driven. Enterprises are engaging in smart risk management through a better understanding of where their interests lie. These risks are not just reputational ones. They also include more mundane risks, like shipping delays, price volatility and stock mismanagement. "If you don't know your supply chain, if you haven't mapped it out, then you don't know your business." It is possible to think of the data on environmental and social performance that tools like Sourcemap deliver as the fortunate by-product of better supply chain management – normally an exercise in financial prudence.
The fact that "almost all the major apparel companies are now transparent about who their first-tier suppliers are" means that they're now influencing the global supply chain en masse. "Very quickly if you have a bunch of big companies asking their suppliers to provide information on their health and safety practices, their labour rights, then all of a sudden the suppliers start to compete on that basis. It's quite a market-driven process." Suppliers that are now able to guarantee a more sustainable product – one that is carbon-neutral or one that is made by employees under fair and just conditions – are commanding higher prices for their products, which are being readily accepted by companies and down the line, consumers. "This started in the food industry but we see it happening in apparel as well, where brands are willing to pay an extra ten or twenty percent for a certifiably sustainable material."
"Almost all the major apparel companies are now transparent about who their first-tier suppliers are."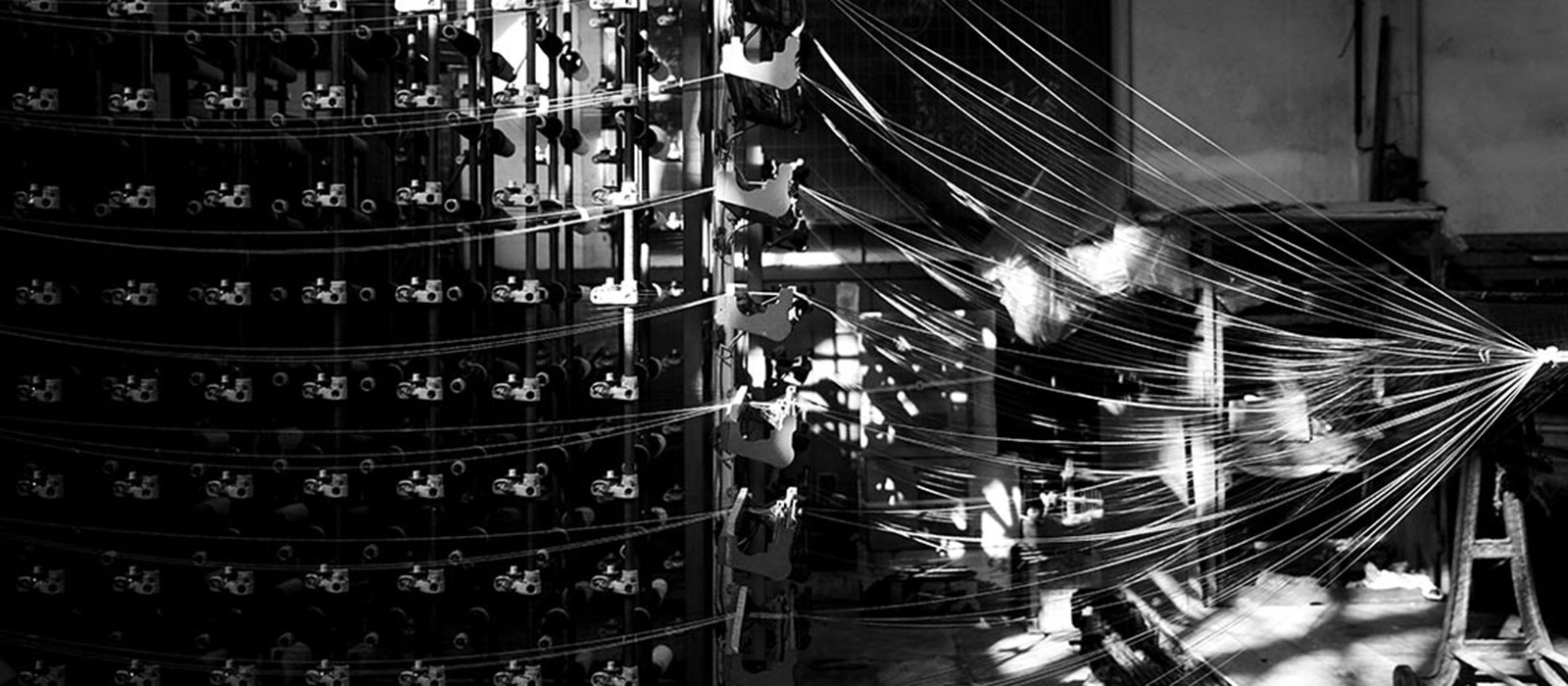 One of the most recent projects launched by Sourcemap is a collaboration with London-based company Provenance, which uses blockchain technology to authenticate supply chains. Founded by Jessi Baker, Provenance focuses on the origin, journey and impact of products, and has worked parallel to Sourcemap for many years. Now they have joined together for this pilot project to map and verify the authenticity of supply chains, down to the raw materials. "We have the best of both worlds; we have people opting in to a mutually beneficial, transparent supply chain and the block chain technology stepping in to authenticate, verify, and make sure that what everybody said along the way is actually bearing out in reality," said Dr Bonanni, of this first-of-its-kind project.
Perhaps the most meaningful development that has arisen from this innovation in supply chain transparency is the one that most benefits smallholder farmers in the far flung corners of the globe. They have access to information about the companies to which they supply, allowing them to be more responsive to the demands of the market. "The first mile of the supply chain [are] also getting access to real-time information and enriching themselves and their communities through participating in this big social network. We can also give them a dashboard so that they can manage their expenses, their productivity, and they can see how best to improve their practices, learn techniques for good agricultural practices, get access to financing and loans, obtain trainings and certifications."
Dr Bonanni's passion for supply chain optimisation is showing no sign of fading. It is almost hard to believe that Source-map, now an extremely advanced system that crunches extensive real-time data for human consumption, could have started its life as a mere re-application of one of humankind's earliest methods for understanding its world: the humble map. In building Source-map into the valuable resource for producers and suppliers that it is today, Dr Bonanni has also managed to shine a light on the darker side of the apparel industry. In guiding the industry to recognise that there is a problem, he has helped the industry to take the difficult first step towards fixing it.