---
Pitti Uomo's brand of excitement was felt from the offset at the 96th edition in Florence, with stimulating, colourful collections for SS 2020. It pulled in influencers, movers and shakers in the design world so the power and significance of menswear was in full flood. Ingenuity, science, responsibility and the celebration of wearable visual art combined.
Pitti Uomo can be divided into large sweeping influences which are changing the face of menswear significantly. China was Guest Nation, as the focus shifts commercially in many areas to the Far East, with lively collections from companies large and small on show and a runway show staged by International Woolmark Prize alumnus Pronouce and designed by Yushan Li and Jun Zhou.
Other major shows included Pitti Immagine Guest Designer Givenchy's Claire Wright Keller, MSGM and Salvatore Ferragamo, with SR, Sterling Ruby LA.CA perhaps having the most impact on the professionals, dramatic digital prints, couture techniques and oversized embellished knits, drawing much applause.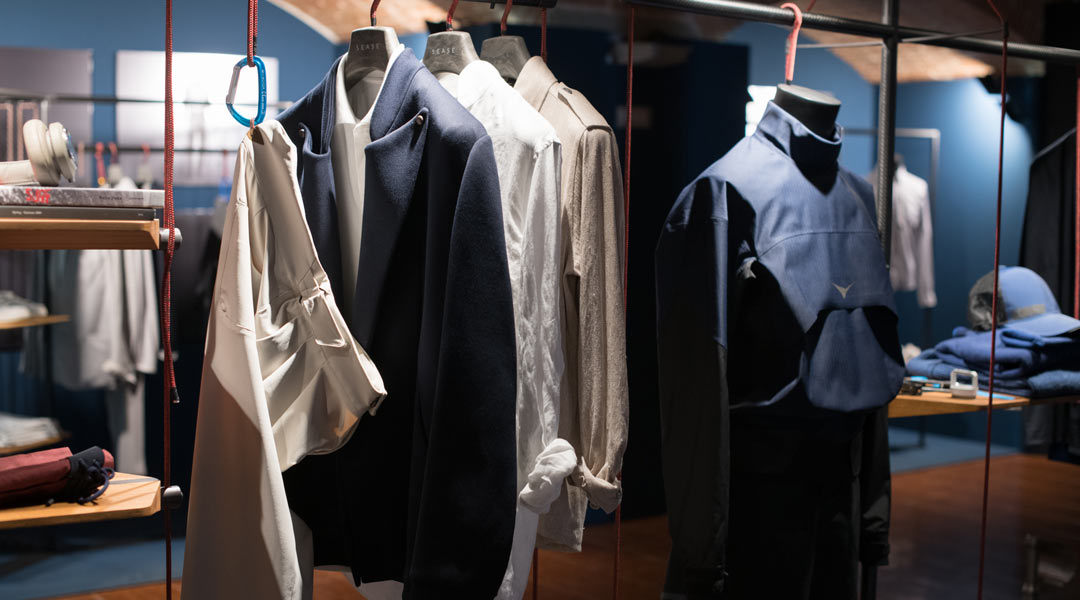 Quality fabric meets ethical production at Sease.
Major 2020 influences

Traditional classic clothes are disrupted and re-evaluated for changing times. Suits were anything but conventional, with colour, pattern and shapes radically re-thought. Wool found an essential high-value role, bridging both old and new, the subject of innovation; its qualities and potential pushed to the limit.
Major companies in the large retail brands include many who regard wool as their DNA, having grown out of wool producers: the major players such as Zegna, Loro Piana, Sartori, Reda and Cerruti, who interpret these movements, reinventing the classics and re-stating and honing their eco-credentials keeping a strong hold on wool the core business, as defined by Franco Loro Piana of Sease.
Most of the activewear is knitted, discreetly styled for practicality and is intensely technical; it has great appeal to a cycling, sporty, international generation; the market has become knowledgeable and critical.
In contrast, knitwear was colourful, mixed and decorated with yarn contrast, embellished and coloured like a canvas. It was nearly all made from wool or other animal fibres, but knitwear brands no longer look to the archives slavishly, instead looking forward with new techniques and machinery.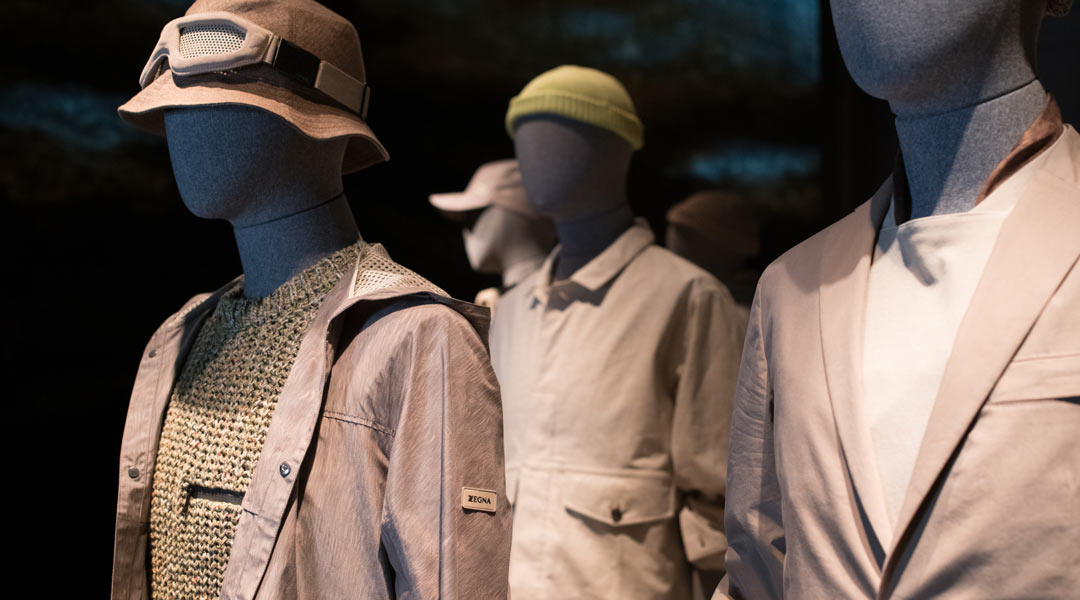 Zegna mixes environmental warnings with a rich array of fabrics and desert-based inspiration.
Disruption is the game

Suits are beginning to look very different in the summer, with a younger generation introducing a new aesthetic on the scene. The rules are broken, with combinations of body hugging, unlined jackets and short, cropped trousers, mixed with various colours destined for urban wear.
Zegna's designs took Merino wool blends with cotton, linen and other natural fibres and played with the colours of sand and undulations in rocks, not just for visuals but to point out the growing desertification of the planet. Across Pitti were statements of ecological focus on plastic reduction, waste retrieval or prevention and fully fledged strategies to tackle environmental degradation and challenge the status quo.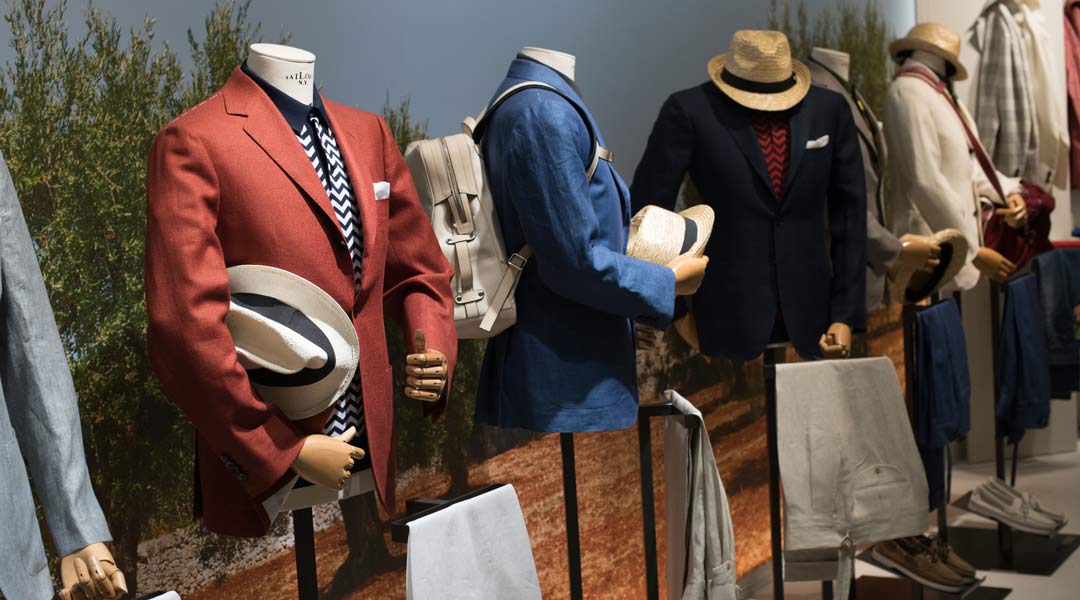 TMB mixed fabric colourful summer suits along with a dark blue and black check for its travel suit.
Travel well, travel smart

Classic suit brands reported increasing demand for the high-octane suit. It was epitomised by Lanificio F.lli Cerruti's 1881 imaginative display of modern suits entitled Six for Six, where six iTravel Suits in Merino wool were displayed in the pop-up venue Limonaia. Six styles were envisaged and made by London Savile Row tailors Cad and the Dandy - James Sleater and Ian Meiers, in Lanificio Cerruti's renowned iTravel fabric. The suits were designed for six individuals, celebrities and influencers ranging from the arts to sport, Savile Row and the internet. In the main hall, visitors were interested in TMB's version of the travel suit, casually styled in dark blue and black check with a slight sheen and crafted from machine washable Merino wool fabric. "It's a trend which can only grow stronger," Tamborini Sales Manager for Europe and Russia Fabrizio Pisani predicted.
Stylist and one of the Cerruti six Sarah Ann Murray commented: "More and more often you get off the plane and straight into a taxi to go to a meeting, and it's essential to be able to count on the material to always be perfect."
The Woolmark Company has been announced the technical partner for the Luna Rossa Prada Pirelli team competing in the America's Cup, developing a Merino wool-rich uniform.
Cutting edge

Innovation ranged from MoMo Design using graphene in their Urban Wear designs, to the reveal of The Woolmark Company's technical partnership with the Luna Rossa Prada Pirelli crew, unveiling comprehensive collections featuring a waterproof jacket, soft shell jacket, polo shirt, T-shirt, wet jacket, blouson, wetsuit and base-layers all with Merino wool. Rewoolution continues with its ultra-chic and extreme performance Merino wool designs in Reda fabrics. Their support continues for social advances, education in Nepal and eco teams at Everest, cleaning up in extreme conditions and wearing Merino high-tech, explained Rewoolution CEO Luca Martines.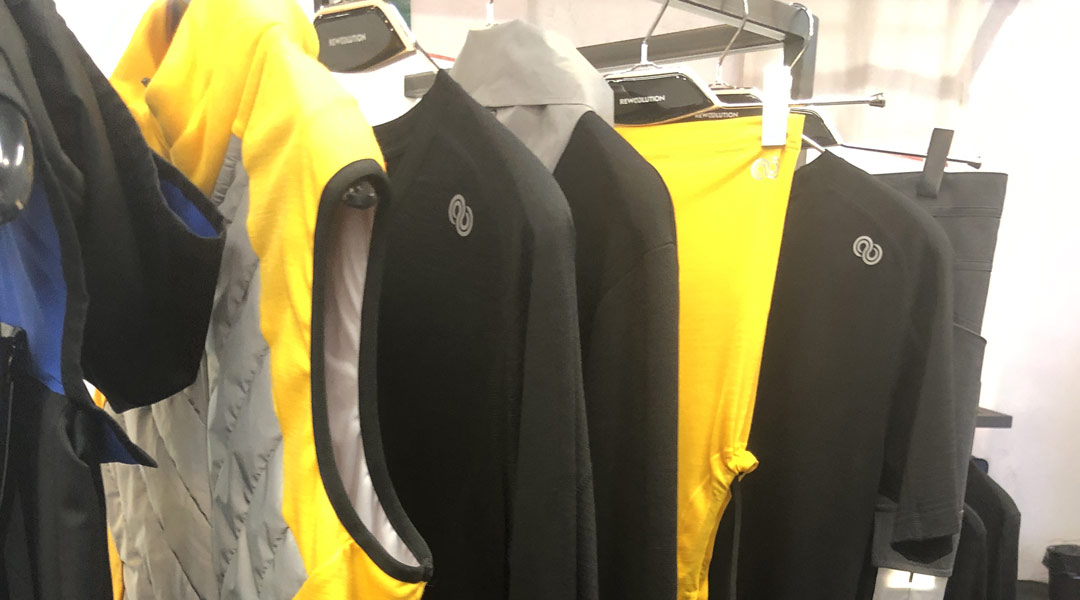 High-performance Merino wool to test the elements.
Heritage becomes futuristic

Knitwear proved an ideal medium for experimentation; a large canvas for flamboyant stand-alone jacquards, while others were restrained and elegant in micro-patterns and boucles. Heritage is important, as in the UK's John Smedley's 235-year anniversary as the most long-lived textile company in the world, its premium product is founded on Merino wool and British craftsmanship. New, cutting edge garment designs and techniques are also in play, including sports looks, guided by Jess McGuire-Dudley, Marketing and Design Director of John Smedley.
Johnston's of Elgin has greatly expanded the range and image of its Merino wool collection. Included are lightweight performance outer garments and pieces in imaginative, abstract designs as well as modern Scottish references, discussed by Graham Wilson, Johnstons Sales Director. New knitwear machinery can produce 3D printed garments in ever shorter timescales, resulting in sustainable design and individual tailored knitwear, giving great freedom to designers.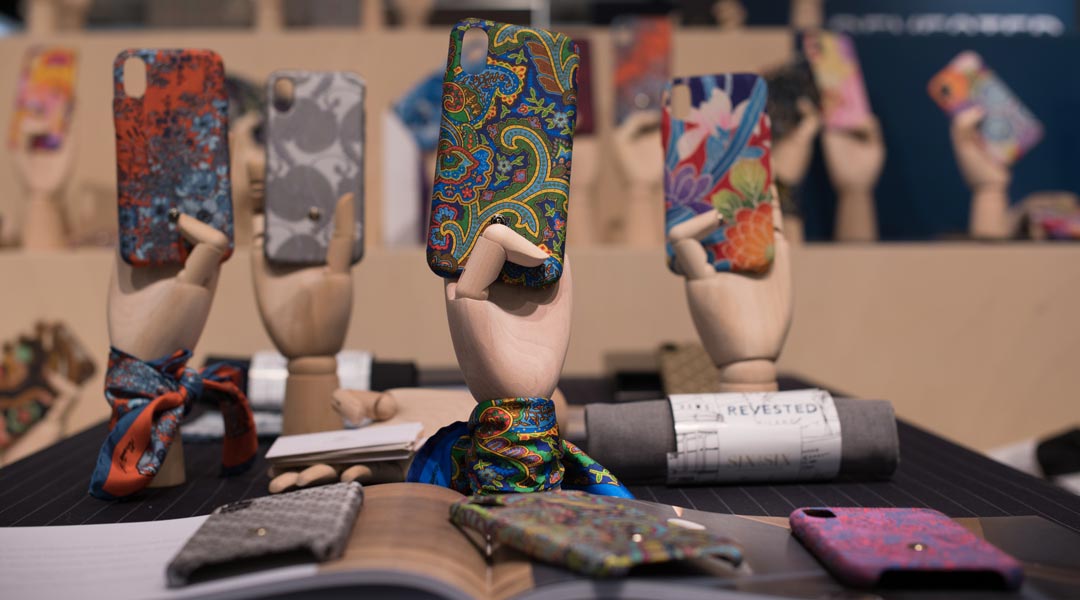 Cerruti luxury fabric offcuts recycled.
Ticking all the boxes

Many exhibitors mentioned a greater polarisation than ever before in global consumer markets, revealing fundamental shifts in values and behaviour. Old and young have an opinion on the future of clothing, fashion and fabrics in the context of local and world environments. 2020 is providing clear vision for the future and Merino wool is in the frame.