---
According to Savile Row folklore – of which there is an abundance – Fred Astaire used to dance around the fittings area of Anderson & Sheppard's atelier, eagerly monitoring the suit-in-progress' response to each to jig, step and leap in the surrounding mirrors. If the neck of his coat didn't remain flush against his shirt collar, it is said, he wouldn't accept it.
It's an anecdote that tells us much about this establishment's approach to tailoring. Astaire would have been attracted to Anderson & Sheppard because their garments are made in such a way that the movement of the wearer, however vigorous, has as little impact as possible on their lines, drape and silhouette. "The high armhole means you get plenty of good rotation with the limb while the jacket stays in position – you're not dragging it around the body as you move," explains managing director Colin Heywood. "It stays in situ. It sounds counter-intuitive, but it's also extremely comfortable – it fits like a glove, so there's no loose material."
To demonstrate Anderson & Sheppard's unique style in more detail, Heywood beckons us over to a mannequin, handsomely decked out in a single-breasted, two-button, notch-lapel garment in medium weight Merino wool – blue Prince of Wales check with dark red over-check – made exclusively for Anderson & Sheppard by Johnstons of Elgin. "Look how the collar sits on the back of the neck, and prevents that gaping effect you can get when moving your arms," he says. "The shoulders are soft, natural, round – we use minimal padding in them to avoid the square effect and to keep a nice clean line. It's a soft, round shoulder rather than the rope shoulders that come from a more military heritage."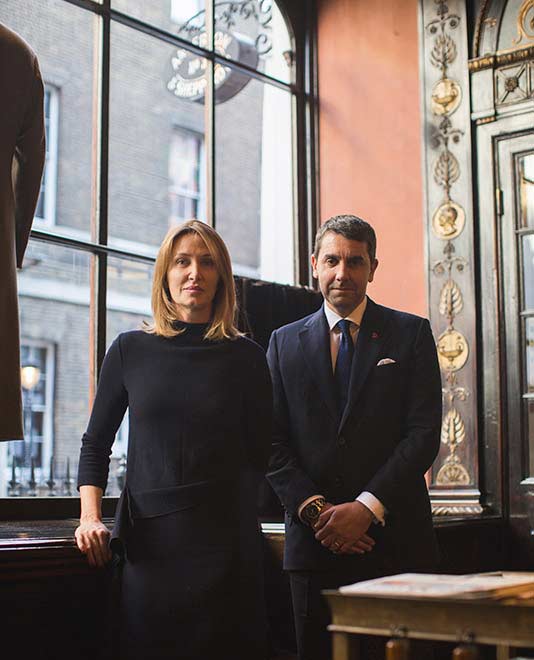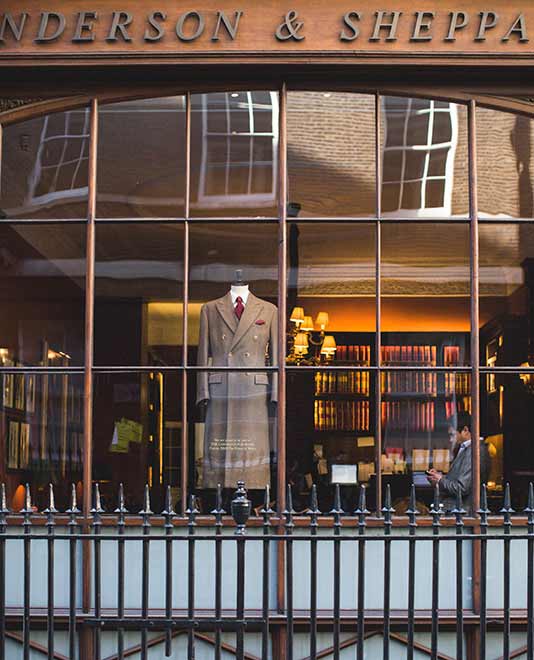 Left: Anderson & Sheppard vice chairman Anda Rowland and managing director Colin Heywood.
This gentle drape cut – one which has enticed figures from the Prince of Wales to Tom Ford, via the Duke of Windsor, Cary Grant, Gary Cooper and Pablo Picasso, through Anderson & Sheppard's doors over the years – goes back to 1906 when Per Anderson, an alumni of legendary Dutch tailor Frederick Scholte, founded the house at number 30 Savile Row. Interestingly, though, today's fabrics are far more conducive to the style than those available to tailors and cutters when it was conceived. "Because Merino wool is so soft, it drapes perfectly," says Heywood, adding that customers have also become enamoured with cloth spun from the sheep breed introduced into Australia in the late 18th century. "It's a very forgiving fabric with 'bouncebackability' – its high-twist yarn acts like a spring," he says.
Complementing the qualities of Merino wool, says Heywood, is Anderson & Sheppard's use of an extremely light canvas – the layer between a suit's lining and its main exterior fabric. "It helps make the whole coat look less structured," he says. "It makes you feel like you're actually wearing the beautiful fabric you've chosen, rather than it being placed over a harder invisible layer. The canvas is an essential part of the structure – you need it to sew to – but with us it's very, very light."
Equally important to the house style is reliance on the tailor's instinct as much as recorded measurements. As such, a strict rule at Anderson & Sheppard means that whoever takes a client's measurements also cuts the patterns – and as soon after a fitting as possible – so that all the quirks and nuances of their stature and posture, while still fresh in the memory, are transposed onto the pattern. The same devotion to gut feeling reigns supreme when it comes to lapels. "We favour a lapel shape that is in proportion to the chest size – narrow or wide lapels will date a jacket more than any other factor – so our cutters actually draw the lapel on to the pattern by hand, according to what naturally looks right for that person," says Heywood. "We don't work off a set width. It's all about balance."
Timelessness is at the core of this illustrious house's approach, although modern quirks are not off-limits. "With the trousers, our classic style remains pleated with side tabs, but a flat front has become very popular over the last ten years, as has a slimmer leg," says Heywood. But Anderson & Sheppard is radically modern in another way. Vice chairman Anda Rowland was a child when she first visited The Row with her father, Roland "Tiny" Rowland – the British businessman and chief executive of Lonrho, who acquired the company in the late 1970s. Even at that tender age, Rowland sensed Savile Row to be forbidding: esoteric, off-limits to all but the elite who visited regularly. And so, when she left her job at Parfums Christian Dior in Paris and returned home to take over the running of the house in 2004, she determined to haul the best of its long-standing tenets – craftsmanship, quality and that devotion to mobility and soft drape – into the 21st century.
"The gentle drape cut – one which has enticed figures from the Prince of Wales to Tom Ford, via the Duke of Windsor, Cary Grant, Gary Cooper and Pablo Picasso, through Anderson & Sheppard's doors over the years – goes back to 1906."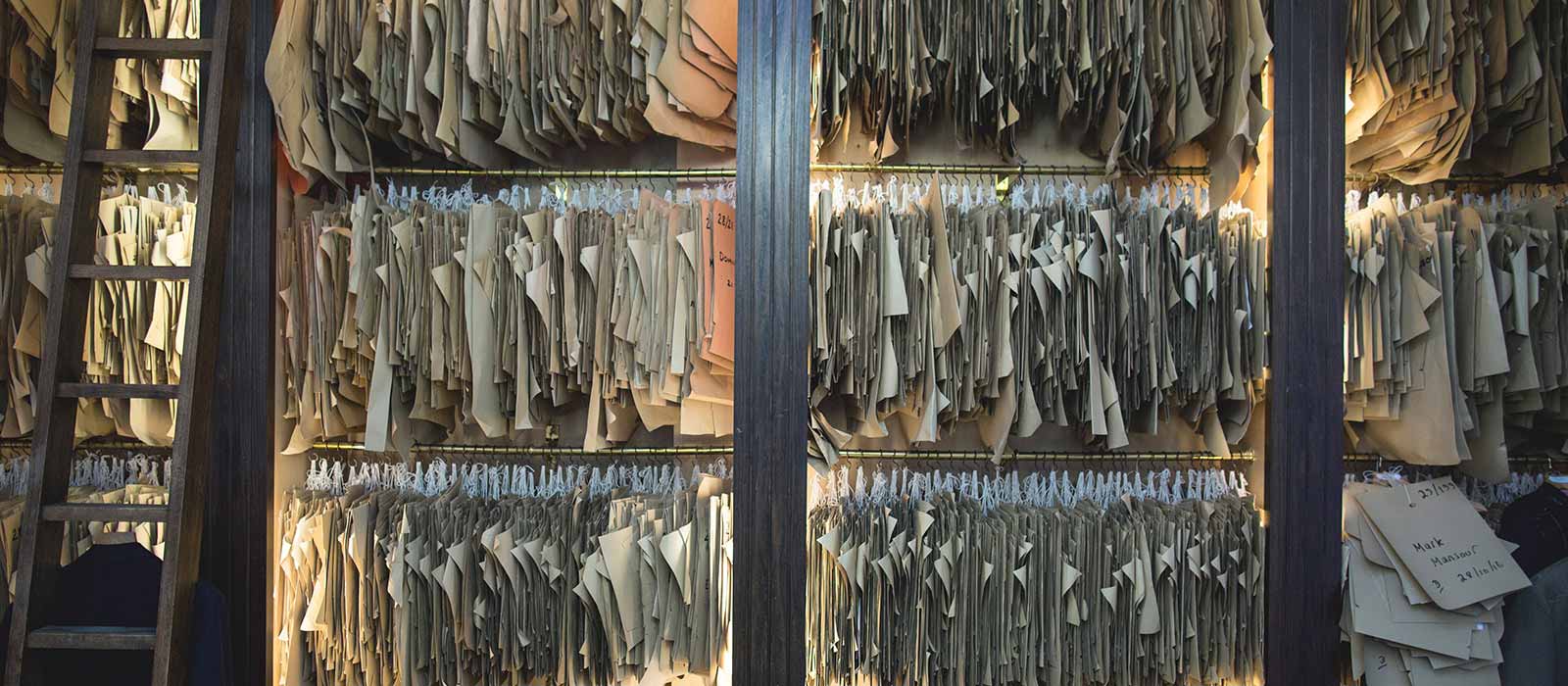 The establishment moved 100 yards away to 32 Old Burlington Street in March 2005 ("off the row", amongst the sartorially savvy, has a special cache of its own), and Rowland's wish to make London's tailoring district more accessible remains a mission in progress to this day. "Savile Row can still be intimidating for many newcomers," says Rowland, who also opened a haberdashery shop on Clifford Street, at the end of the Row, in late 2012. "There's this feeing that once you've crossed the threshold, you can't browse, yet you've committed yourself to the time, the process and the cost of a bespoke suit. So what we try and do is create a friendly, welcoming atmosphere. Events and collaborations we've done with The Woolmark Company, our website, Instagram – all these things are very helpful with that. These components help overcome that idea that Savile Row is beyond reach. As soon as people come through the door and meet one of our team, they know that's not the case, but it's getting them to cross that threshold."
The resulting congenial atmosphere at Anderson & Sheppard is palpable, and has also worked wonders for staff retention (head cutter Danny Hall, who joined straight from school, has been with the company 30 years; trouser cutter John Malone has served 45). But the real aim is to draw a new generation of au courant clientele through the door while retaining the affections of veteran Savile Row devotees. Given the frenetic level of activity in the cutting room on the day of our visit, it's an approach that's reaping dividends.
Anderson & Sheppard, 32 Old Burlington Street, London, WIS 3AT