---
Knowing the nuances of various cuts and when to wear them is fundamental to maintaining a stylish wardrobe. Here, our succinct guide to the different types of suits.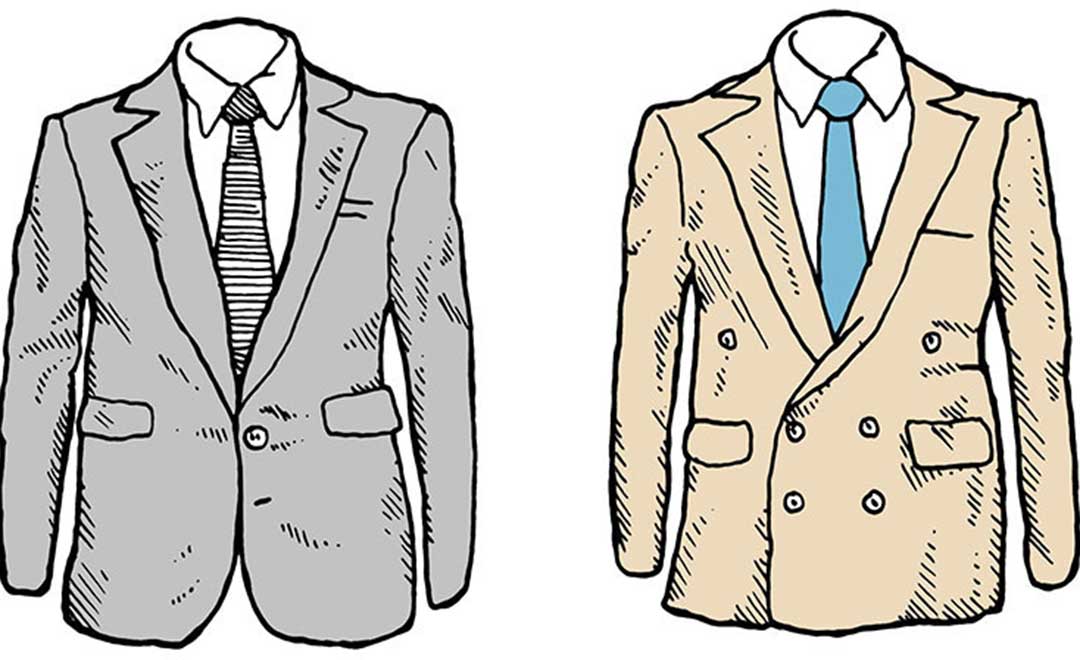 British, European or American?
It was once that the particulars of a suit could be defined by knowing where they were made – England, Italy or America. While these guidelines are no longer set in stone, they do come in handy when choosing the right fit for your body type.
Italian styles typically had padded shoulders, no vents, were full-chested and had a V-shaped jacket and "slash" – or flapless –pockets, and an ideal choice for slimmer builds.
In comparison, a British suit sported a more military aesthetic, had padded shoulders, two vents, a pinched waist, flap pockets and came in striped or plaid patterns. This style is considered perfect for more athletic builds.
The American variety is best known for its nickname the "sack suit", and had natural shoulders, a single vent in the back, straight-hanging lines and flap pockets is the style recommended for men with larger frames.
Nowadays, suits are more commonly divided into the following three categories: two-piece, three-piece and tuxedo.
The two-piece is exactly how it sounds – a suit made of two garments, a jacket and the pants. The three-piece includes the additional waistcoat often, but not always, in the same fabric or pattern as the suit.
The tuxedo, in either two- or three-piece format, is the eveningwear par excellence. Never worn before 6pm, and almost always black. INSERT LINK TO BLACK TIE FEATURE
Single or double-breasted?
The most common style of suit, the single-breasted, comes with a single row of buttons down the front, which only overlaps enough to permit buttoning. This is the go-to style for corporate environments or men who prefer a simple, yet no less stylish, aesthetic.
In comparison, double-breasted suits have two rows of buttons, with the front overlapping significantly to allow for both rows to fasten. While becoming more common in some offices, double-breasted jackets are, generally, perfect for events where a more dramatic look is required.
Lapels
The lapel is the fold of fabric across the chest that sits just above the waist. There are three primary lapels styles to choose from:
Peaked – defined by edges that point upward to the shoulder and traditionally the most formal of lapels, peaked lapels now tend to look more fashion-forward and work best with double-breasted suits.
Notch – the bottom of the collar and the top of the lapel sit at 75-95 degree angles, creating a "notch" cutaway effect. It's the most common of the three lapel styles because of its versatility. This style is most often seen on single-breasted suits.
Shawl – a continuous curve with no break, often made of satin. This lapel is the reserve of dinner jackets and tuxedos.
Pants
Unlike the complexity of jackets, pant styles are a basic choice of either pleated or flat-front, cuffed or straight leg.
While a cuffed leg can add some weight to the leg of your average suit, a tuxedo always has a straight leg. Pleats are more likely to follow trend than tradition.